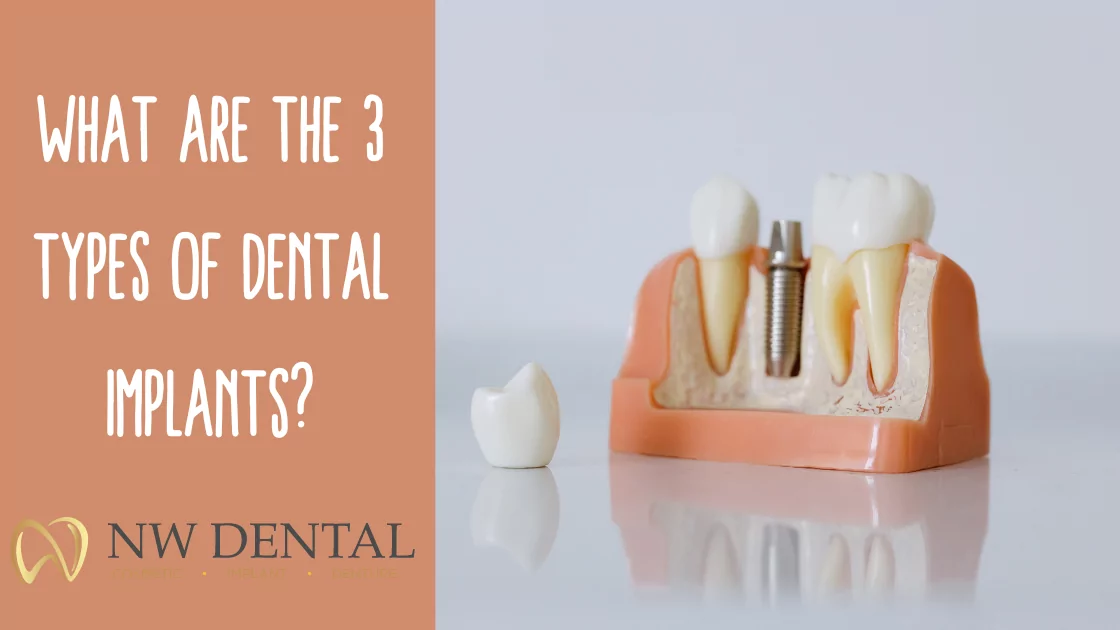 A dental implant is used to replace missing teeth and restore your smile. The implant is small and made from a titanium post or screw attached to your jawbone to form a stable platform for your tooth restoration, ensuring that is both beautiful as well as functional with the needed strength. It attaches itself as a root to your bone and stimulates and preserves the teeth' structure. Then, a restoration is placed on the post to replace a tooth. The procedure can be used for multiple missing teeth and sometimes fixed with a bridge or dentures. A dental implant can last for a lifetime if properly maintained, making it the number one recommendation to replace missing teeth. You may be wondering which dental plant will suit you; here are the three types of dental implants available on the market.
THREE TYPES OF DENTAL IMPLANTS
Your smile, confidence, and self-expression can be encouraged through dental implants. But you need to know the three implants you can choose from to suit your needs properly.
Endosteal Implants
Endosteal implants are common and are attached directly to the jawbone to provide and function as dentures or bridges. This method is suitable for a missing tooth. It is cylindrical with two screws, and an abutment tightened to the crown. The implant has a smooth surface or blade made from titanium, ceramic or polymeric. The surgery requires anesthesia and sedatives before running the procedure. The implant will heal for six weeks before the final abutment will be fixed to fit the crowns and teeth.
Subperiosteal Implants
The subperiosteal implant is a mental tighten on top of the jaw bone but below the gum line. The metal frame is molybdenum, cobalt, or chrome in nature and tightens the gum after healing from the first procedure. The procedure is scary but suitable for replacing multiple missing teeth in the same area, especially for people who are uncomfortable with dentures or have low jaw bone density.
Zygomatic implants
Zygomatic implants are mainly for replacing cheekbones. This procedure is used on patients with insufficient jawbones for subperiosteal implants. However, the procedure comprises complicated surgical processes, which makes it difficult for a dentist to rely on this solution.
Other Techniques
In cases where the conditions are complicated, or your jaw bone cannot withstand an implant or support the zygomatic implant, the dentist may recommend other forms of dental implants such as;
Bone Augmentation
This process will allow the dentist to restore your jawbone if they cannot hold implants. The jaw bone will be supported with bone additives. The procedure may be scary, but it works effectively.
Sinus Lift
A sinus lift procedure will add bone under the sinus with a deteriorated bone caused by missing upper back teeth.
Ridge Expansion
Bridge expansion may be effective if you have a narrow jaw that does not support implants. The dentist will forge materials that will be added to the space on top of your job.
Finding the right dental implant is a priority to enjoying the procedure and improving your smile. These dental implants are of many types made from different materials but serve the same purpose. Work closely with your dentist to get a suitable design for your missing tooth/teeth.
RELATED POSTS:
When to Get a Root Canal and When to Pull the Tooth
How Long Can I Go Without a Tooth?
Difference Between Crown and a Bridge
When a Dental Bridge is the Best Option
How Does Nitrous Oxide Help in Dental Procedures?
How Long Does it take for a cavity to form
Affiliate – Sugar Land Spinal Cord Injury Rehabilitation