The feeling of having lost teeth can be uncomfortable, but no matter how long you've lived with missing teeth, there are solutions available! We help patients that are missing their teeth by offering them innovative and long-lasting dental solutions, including implant dentures or implant-supporteddentures.
Implant dentures are a modern and long-lasting solution for missing teeth. Many of our patients choose them because they want the full benefits of a healthy, natural-feeling smile and a functional bite with the ability to chew all foods easily.
There are countless benefits that you can expect to see once you decide to receive implant dentures from NW Dental in Clackamas.
Implant Supported Dentures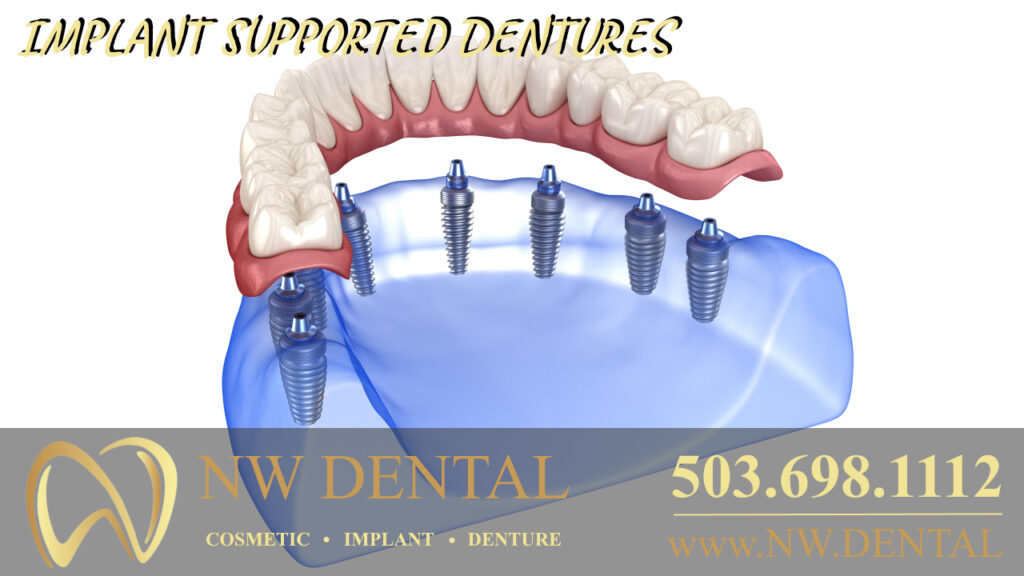 WHAT ARE IMPLANT DENTURES?
Implant dentures are supported by dental implants that are placed directly in your jaw to replace missing tooth roots. Once these implants have been allowed to heal, they are strong enough to secure a set of full or partial dentures.
Whether you choose full or partial implant dentures, these dentures will replace your missing teeth with beautiful, naturally-colored artificial teeth that will help you eat and smile normally again.
Traditional dentures used to be the only option available for your smile, but that's no longer the case. Classic dentures are prone to slipping and sliding when you eat or smile, but you will have a completely different experience with implant dentures. These dentures are securely locked in place so that your teeth function naturally.
The procedure for receiving dental implants consists of multiple appointments as you receive your implants and have your dentures crafted, with each appointment designed to help you achieve your brand new smile.
Talk to NW Dental About How Implant Dentures Can Transform Your Smile in Clackamas, Oregon!
Contact NW Dental for a Dental Consultation and our dentist and dental team to take a look at your teeth and unique oral health situation. Depending on the condition of your teeth we will recommend the best possible solution for you and your unique situation. If you are interested in the absolute best dental care available in Clackamas and a dentist and dental team that really care about your overall dental health, come visit us at NW Dental & we'll help you transform your smile!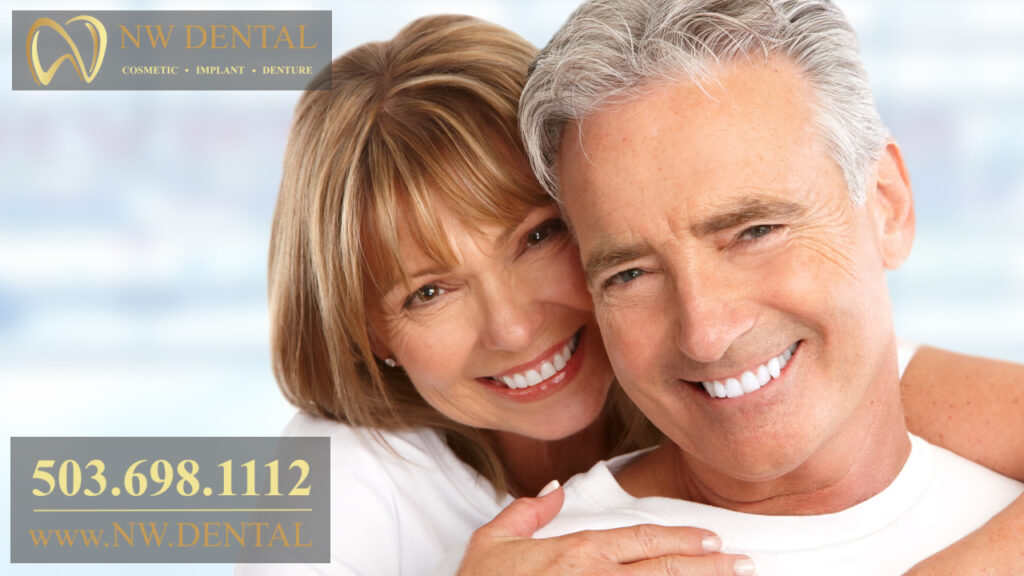 BENEFITS OF IMPLANT DENTURES VS. TRADITIONAL DENTURES
When you choose to restore your teeth with implant-supported dentures, you can benefit in all the following ways:
More Natural-Looking Teeth. Implant dentures are custom-designed and color-matched in our laboratory to look just like your natural teeth—rather than the often mass-produced traditional dentures. This means that you can show off a beautiful new smile to your family and in every social setting.
Better Comfort. Traditional denture options can be painful and uncomfortable. They can rub against your gums, and they can feel insecure especially when biting and chewing. Implant dentures are fully-functional teeth that will allow you to eat and perform all of your daily activities without having to worry about being in pain.
Clearer Speech. Traditional dentures tend to slip out of place when used a lot, which can make speaking and pronunciation difficult. With your new implant dentures, your teeth will stay securely in place at all times—so you can speak clearly and naturally.
Stronger Jawbone. Implant dentures are anchored directly to your jawbone with dental implants. This keeps your jawbone active and engaged, which will enable you to maintain your youthful facial structure for much longer.
Flexible Restoration Options. Do you need a full arch of new teeth, or just a couple of missing teeth replaced? We offer both full and partial denture options depending on how many teeth you need to replace.
Long-Lasting Care. With diligent care and good oral health habits, your implant dentures can last for decades—without needing replacements. Care for your implants the way you care for your teeth, and they have the potential to last for life!
Dr. Whitted is here to make sure that you have a long-lasting smile that includes all of the benefits described above. When you come into our office we will discuss your areas of specific concern and create a treatment plan that addresses your unique needs.
AM I A GOOD CANDIDATE FOR IMPLANT DENTURES?
Many of our patients are a good candidate for implant dentures.
If you have been looking for the most durable, long-lasting tooth replacement option and are willing to make an investment in your oral health, we recommend implant dentures.
The patients that are the best candidates for implant dentures are patients with healthy gums that are non-smokers. When you have good oral health, your new dentures will work properly and not fail.
CALL OUR OFFICE TO GET STARTED TODAY
If you are interested in replacing missing teeth in a comfortable, natural-looking way, you could be an excellent candidate for implant dentures!
Implant Supported Dentures Simulation Video
Come See Us at Our Dental Clinic in Clackamas, OR.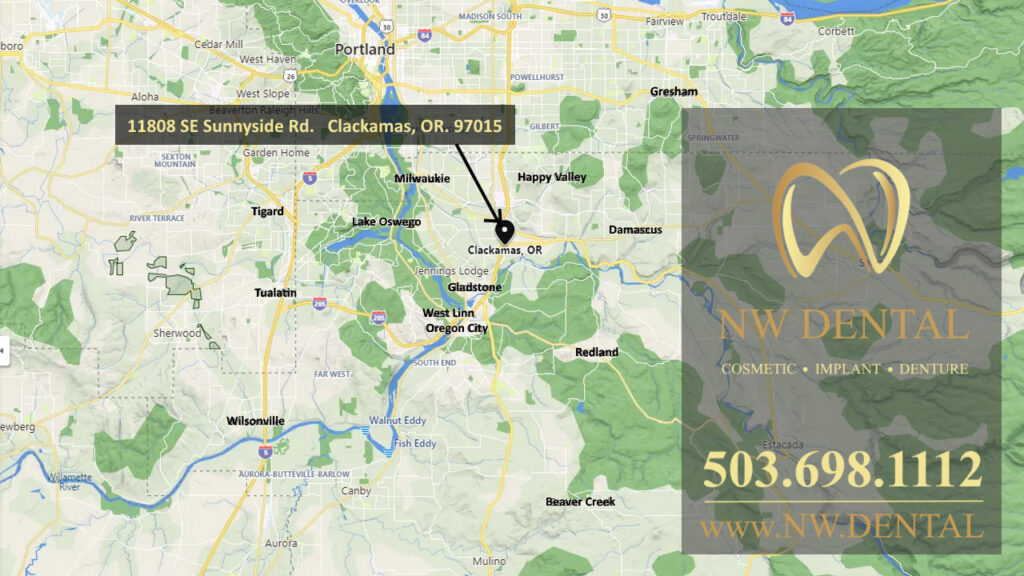 In addition to expertly trained and experienced dentists and state-of-the-art equipment and facilities, The Dental Team at NW Dental is as good as it gets. From our reception personnel, patient care coordinators and dental hygienists and dental assistants, our number one priority is the best quality dental care for you and your family.
Our dental clinic and dentists are located in Clackamas and we have many patients drive to see us for our exceptional dental care from around Clackamas County including the nearby communities of Clackamas, Damascus, Boring, Oak Grove, Estacada, Happy Valley, Gladstone, West Linn, Oregon City, Lake Oswego, Milwaukie, Redland, Gresham, Beavercreek and SE Portland, Oregon.