What normally comes to mind when you think about visiting the dentist? Do you think of that office you visit twice a year for a checkup? Perhaps you conjure up images of somebody that is just there to fix a cavity or do a fluoride rinse.
In reality, we provide many more services than that; we offer cosmetic services that are intended to transform your life and improve your well-being.
The best part is that you can also be one of these patients that feels great about achieving their dream smile! Here at NW Dental, we offer many cosmetic dentistry services that will allow you to look and feel great.
Teeth Whitening, Invisalign, Porcelain Veneers
Cosmetic Dentistry Procedures Offered at NW Dental in Clackamas, Oregon
Some of the cosmetic dentistry services that we frequently perform include the following:
There are few things that will help your style stand out more than brilliantly white teeth. Whether you are going to a new job interview or have a family party coming up, we will help prepare you to look your best.
We use professional-grade teeth whitening that you can't buy at the store. This means that your teeth will be much whiter than your typical home-use teeth whitening kit; plus, you'll be able to see those results in less time.
After receiving just one of our in-office teeth whitening treatments, your teeth are guaranteed to be multiple shades lighter after your visit.
Our Goal is To Keep You Smiling For Life!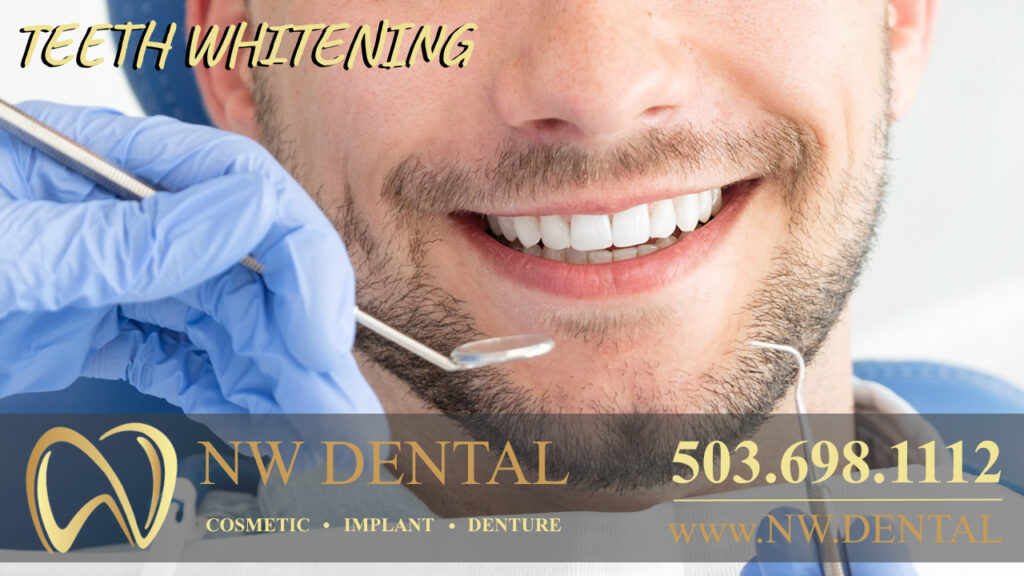 Porcelain veneers are one of the preferred solutions for patients that have chipped or crooked teeth. These thin, durable shells are permanently placed onto the fronts of your teeth and can reshape and recolor even the most difficult teeth.
The process for receiving your veneers is simple. On your first visit we will take impressions of your teeth before sending them off to be created in our laboratory. The veneers will be custom-designed to look and feel natural.
After we get the veneers, you will come in for a follow-up appointment during which Dr. Whitted will bond them to your teeth. The entire process will only take a few hours!
Let Us create a Beautiful Smile for You!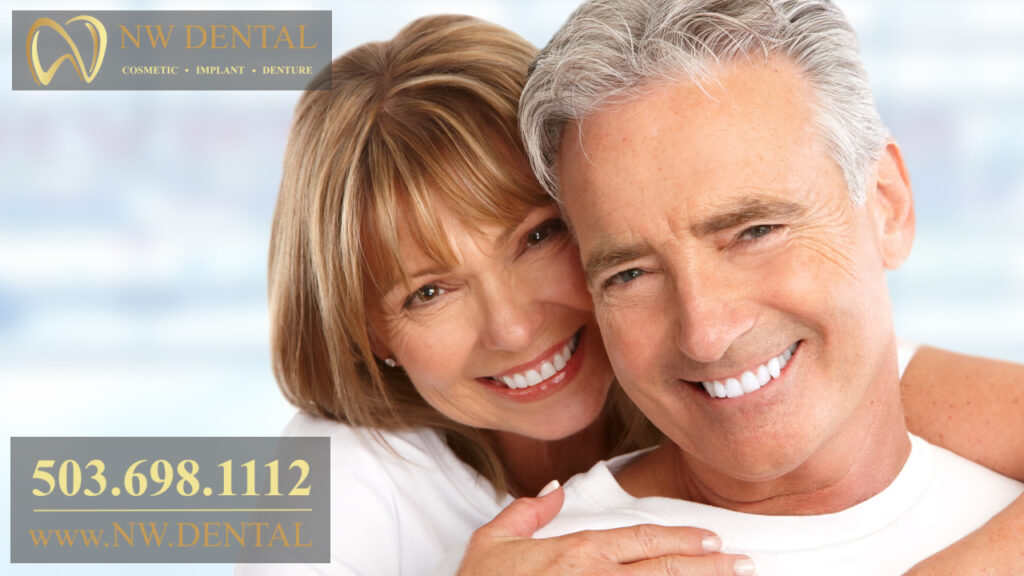 You'll be thrilled to know that we offer Invisalign Clear aligners, some of the most technologically advanced aligner technology available.
One of the greatest drawbacks of traditional braces is that people will always recognize that you are wearing them. Invisalign aligners don't have this problem, because the aligners are nearly invisible to others.
The Invisalign process is designed to be remarkably fast—you will begin to notice results in as little as a few months, and on average patients complete the entire process in 18 months. Just imagine what you will do with your new smile in less than two years!
Invisalign Clear Aligners at NW Dental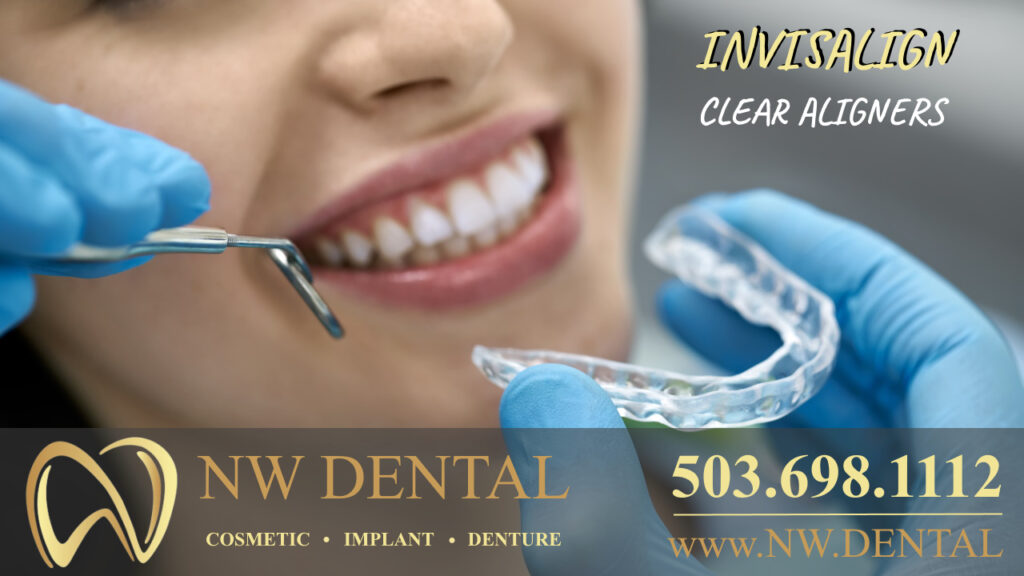 Additional Cosmetic Dentistry Services
We have only highlighted some of our favorite services on this page. Dr. Whitted has a significant amount of experience providing other cosmetic services that our patients love. If there's any aspect of your smile that you're not happy with, talk to us! Our cosmetic dentistry services can address all of the following issues:
Broken teeth.
Cracked or chipped teeth.
Misshapen or stunted teeth.
A gappy or gummy smile.
Stained or discolored teeth.
Crooked teeth.
Worn-down teeth.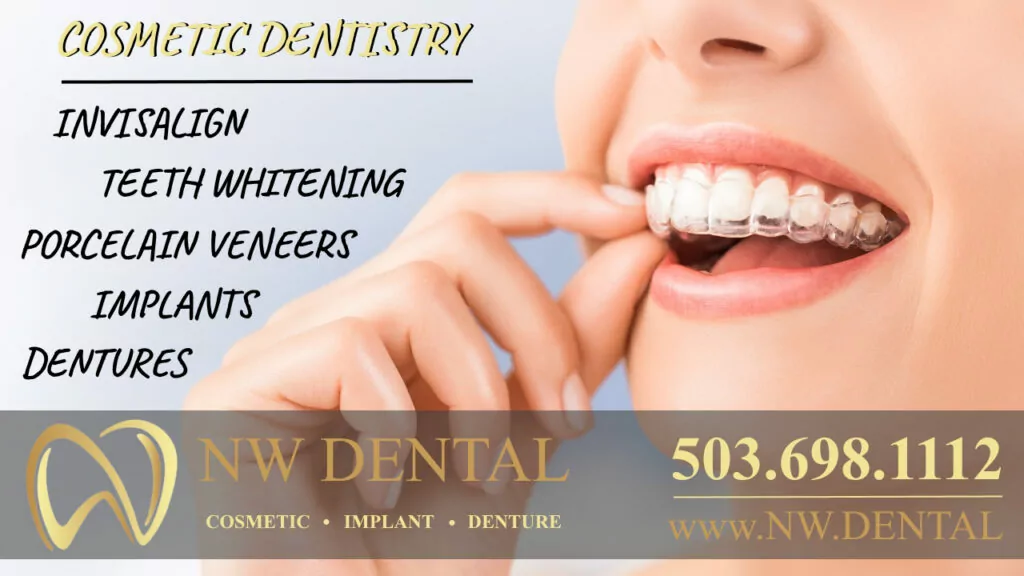 Even if you've been living with damaged teeth for years, we can help! When you visit our office we will be able to get a better idea of what you are looking for, and we'll come up with a personal solution that works best for you.
BOOK YOUR APPOINTMENT NOW
Now that you have a better idea of all of the incredible differences that we can make with your smile, it's time to schedule your appointment with Dr. Whitted DDS at NW Dental in Clackamas, Oregon serving dental patients from Clackamas County and the nearby Communities of Clackamas, Damascus, Boring, Oak Grove, Estacada, Happy Valley, Gladstone, West Linn, Oregon City, Lake Oswego, Milwaukie, Redland, Gresham, Beavercreek and SE Portland, OR.
Contact Us or call our NW Dental Clinic at 503-698-1112  today, and let us help you achieve that beautiful smile you've been dreaming of!