Invisalign ® Clear Aligners
INVISALIGN ® CLEAR DENTAL ALIGNERS
If you heard that just 18 months from now you could have the perfectly straight teeth that you have always wanted, would you believe us?
Not only is this a possibility, but it has become a reality for many of our NW Dental patients in Clackamas Oregon who have chosen Invisalign ®  clear aligners vs traditional braces to fix their smile.
We have countless patients that always imagined having straight teeth and now, thanks to modern dental technology, they have a smile that they are proud to show to everyone around them. Give NW Dental a call at 503-698-1112 to schedule a free Invisalign ® consultation at our dental office in Clackamas, Oregon. 
Straighten Your Teeth and Improve Your Smile with Invisalign ® Clear Aligners at NW Dental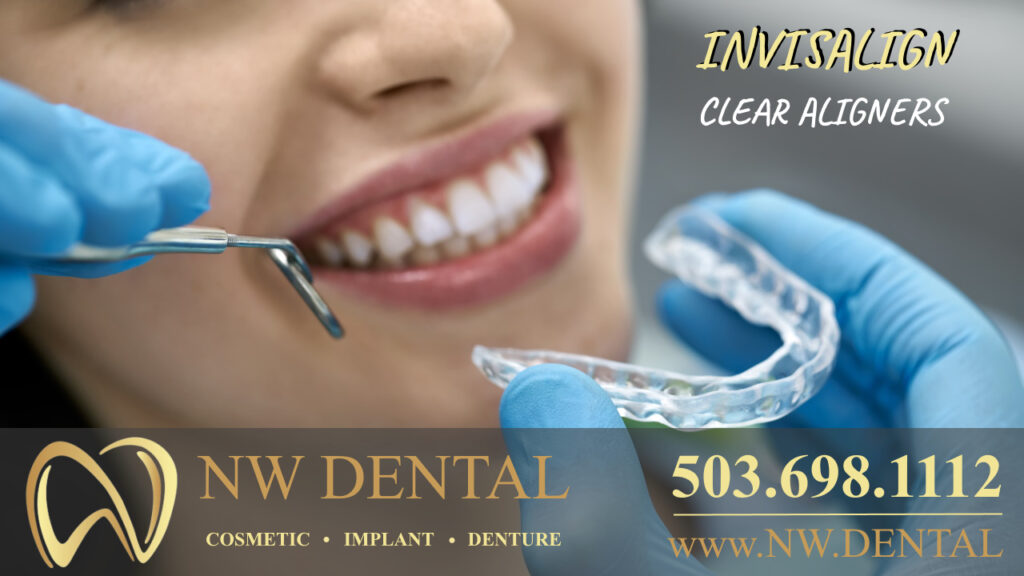 WHAT IS AN INVISALIGN ® TREATMENT & HOW IT WORKS
Invisalign aligners are an alternative solution to traditional braces that can straighten your teeth without all of the clunky metal brackets and wires.
HERE'S HOW THE INVISALIGN ® PROCESS WORKS:
Initial Consultation: When you begin your Invisalign treatment, you'll see Dr. Whitted for an initial examination and scan. Dr. Whitted has received special training on how to use this technology so he can identify areas of focus such as an underbite, overbite, or crossbite. He'll then send the impressions off to the lab to develop your aligner trays.
Begin Treatment: After your aligners have been created, we will call you back into our office to pick them up and give you instructions on how to wear them. You'll wear each set of aligners for a week or two before moving on to the next set. You will also need to wear your aligners for around 22 hours each day to get the quickest results.
Treatment Checkups: You will come into the office every six weeks for a checkup to ensure that the treatment is progressing as it should be. If any adjustments need to be made, we'll make them at this time. Unlike traditional braces, Invisalign aligners don't need regular adjustments or tightenings, so these visits will be quick and painless.
Beautiful Final Results: Before you know it you'll be on your last set of aligner trays, and you'll be able to show off your stunning straight teeth. Invisalign treatment provides the same straightening results as traditional braces, often on a shorter time frame. Invisalign aligners can permanently improve your smile!
Straight Talk About Crooked Teeth
Invisalign ® Clear Aligners at NW Dental in Clackamas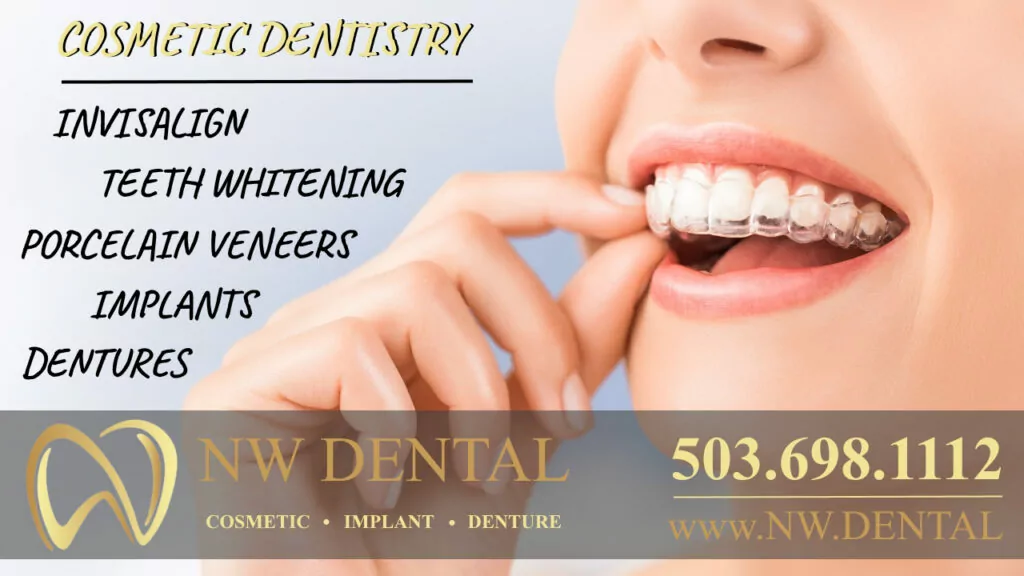 Invisalign ® Provide CONVENIENCE AND COMFORT THAT YOU WON'T EXPERIENCE WITH TRADITIONAL BRACES
One of the main reasons why our patients choose Invisalign ® treatment is because they get the same results as traditional braces without having to worry about what they are eating or wondering whether others are looking at their braces.
There are many things that you will love about Invisalign aligners, but here are just a couple: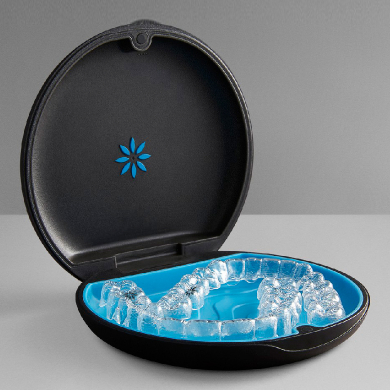 PEOPLE WON'T BE ABLE TO TELL THAT YOU'RE WEARING THEM
With their eye-catching metal wires and brackets, traditional braces can make some people feel self-conscious.
If you don't want people to know that you're getting an orthodontic treatment, Invisalign ®  clear aligners can bring you peace of mind. Just like the name suggests, the aligners are nearly invisible so nobody is going to notice them.
EAT WHATEVER YOU WANT
With Invisalign ®  clear aligners, you can eat all of your favorite foods, candy, and snacks—even while undergoing your orthodontic treatment.
Simply pop your aligners out while you are eating and put it back in when you are finished eating! You'll be able to eat what you want without worrying about damaging your orthodontia.
MAINTAIN YOUR CURRENT LIFESTYLE
Traditional braces sometimes mean a lifestyle change. If you or a loved one plays contact sports or a musical instrument, for example, traditional braces increase the risk of mouth injury or damaged dental gear.
With Invisalign ®  aligners, you can be yourself and maintain the activities you love. Because these aligners are smooth, you're much less likely to hurt your mouth on the materials, regardless of your hobbies.
Why Choose Invisalign ® Clear Aligners
WHO ARE INVISALIGN ® CLEAR BRACES FOR?
Teenagers and adults alike who want a healthier, better-looking smile can be a great fit for Invisalign ®  aligners.
There are only a few instances where Invisalign ® aligners won't fit your needs, and your dentist will be able to tell you whether any of them apply to you, particularly if you take advantage of our free Invisalign ® consultations.
We know that Invisalign ® aligners have the potential to be a significant investment in your oral health, so we offer a free consultation so that you can decide if it is what you are looking for.
Getting Started with Invisalign Clear Aligners
SCHEDULE YOUR INVISALIGN ® CONSULTATION AT NW DENTAL in Clackamas, Oregon TODAY!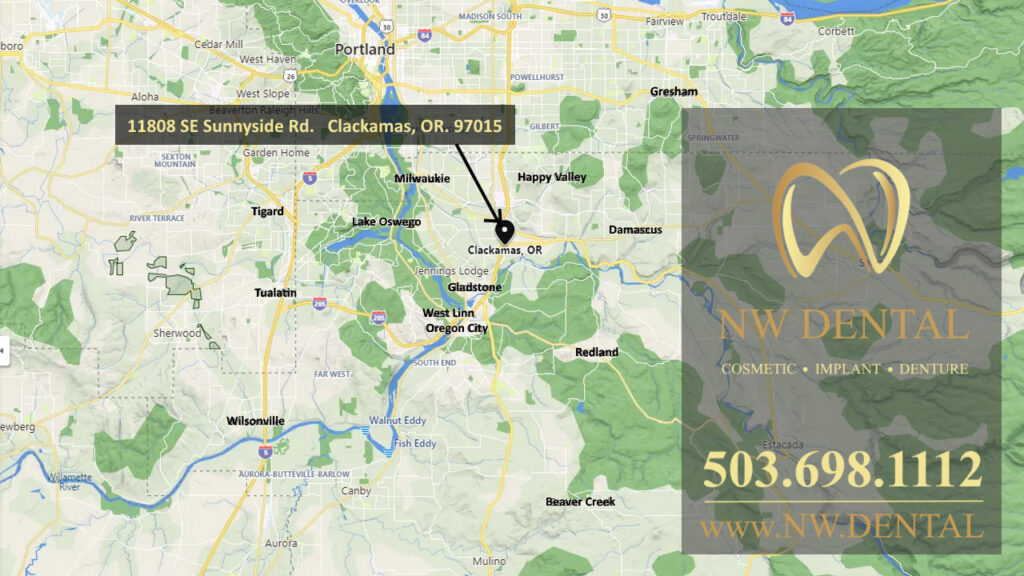 In this Video an Orthdontist Answers the Question: Are Invisalign Clear Aligners More Comfortable Than Metal Braces?
Invisalign ® aligners often check all of our patients' desired boxes for straightening teeth: they are fast, convenient, reliable & affordable.
We are confident that you will love Invisalign just as much as we do, so call our office to schedule your Invisalign ® consultation today!
Our dental clinic and dentists are located in Clackamas and we have many patients drive to see us for our exceptional dental care from around Clackamas County including the nearby communities of Clackamas, Damascus, Boring, Oak Grove, Estacada, Happy Valley, Gladstone, West Linn, Oregon City, Lake Oswego, Milwaukie, Redland, Gresham, Beavercreek and SE Portland, Oregon.
Winning Smiles With Invisalign ® Clear Aligners
Invisalign ® Official Clear Aligners of the NFL
Michael Gallup – Dallas Cowboys
Clyde Edwards-Helaire – Kansas City Chiefs